Buy.com: "Where Customer Service goes to die."
I'm sure everyone has had some bad customer service-- fuck, I've had a now defunct DVD import site tell me something was out of stock right after it shipped. I had Best Buy tell me a $300 TV-- which I am right now [JAN 8 2013] using as a computer monitor-- was out of stock and wouldn't be back in. At least in the latter case the customer service rep was nice and believed me when I had something different on my screen, and she actually got the warehouse to send me one out that afternoon. So one did exist. I'll award her a B+ for not letting me cancel right away, but this is a case where I did still want the product anyway. Or the chronicle of my adventures with Pennsylvania's state-augmented welfare, where they basically pay an insurance provider for you. That was such a mess, but again the CSR was nice, helpful and made me laugh so A+ to her.
Anyway, I wanted a new computer keyboard, so I selected an item listed as Saitek Cyborg Keyboard - USB - 104 Keys - Black, Silver - Retail. It's not a cheap thing, and yet two days after they had to refund my order is listed $10 cheaper [Placed JAN 5 13, now JAN 8 13]. Anyway, I recently moved and realized that I put my old address. It's hard moving from house 443 to house 43, especially when relatives have lived at the latter for all of your life and you used that address to attend a different school-- which by the way is really common here. It's an easy mistake putting the wrong address when you move and it should be easy to cancel and order right?
Buy.com canceling an order is so hilarious that I could become a famous comedian with just that as my entire routine forever. "Hi ladies and gentlemen, one time I tried to cancel a buy.com order! Hahaha goodnight everyone!" I could say. In fact, let me show you the research I wish I had done before I ordered.
"I attempted to cancel a pre-order that was being released on 12/05/2000 and got mail that it couldn't be cancelled because "this item has already entered the shipping process" http://talk.dvdtalk.com/ubb/confused.gif
Hello?! The DVD is being released in 4 months! Needless to say, I sent them another mail. What makes me more upset is that they cancelled my Princess Mononoke order that I did NOT want cancelled or given a choice on. So they've essentially cancelled an order I did not want cancelled and they cannot cancel an order I want cancelled."
-- tenjin VIA the DVDtalk Forums
I could go on and on, but I linked the thread and if you can Google it yourself. But let's see what Buy.com's stated cancellation process is, right from their own help center.
Buy.com strives to process, fulfill, and ship your order as quickly as possible. Because of that, most orders may only be cancelled through your Buy.com Account's order history within the first 15 minutes of processing.
If you do not see a "Request to cancel" link, your order may no longer be cancelled by you or our customer service department.
If you are unable to cancel your Buy.com order using the "Request to cancel" link or your order enters the shipping stage before your request is processed, you may either refuse the item at delivery or arrange a return using the instructions found here.
Let me just make a list of what is wrong here.
Giving people only 15 minutes to cancel is insane. I can't imagine why they would do that, unless they're bound by law to give people some chance, however small.
They can't even cancel your order after that? Then why can you call and get a request put through to do it!? That is, again, setting yourself up for an unhappy customer.
This is basically "If you don't want it you have to send it back on FedEx's (or UPS' or USPS') dime. Which is a shit move. Dicking around both your customers and your courier service, way to go! A+++ WOULD USE TO BE FUCKED OVER BY AGAIN. BEST FUCKING OVER I'VE EVER HAD!++++++
So I call once, place a cancellation request. Online it lists it usually clears in 30 minutes. I give it four hours. I call back and this time speak to "Victoria", quotes because I don't think any CSA give real names-- not so much as a bad thing, but because they can ensure unique names on their part to track service better-- who told me the warehouse had to process it and was closed on Sundays. Makes sense, as it was a Sunday [JAN 6 2013]. The Monday following [JAN 7] I wait. By 12PM EST my package shipped. And my online order screen looked, well, like this.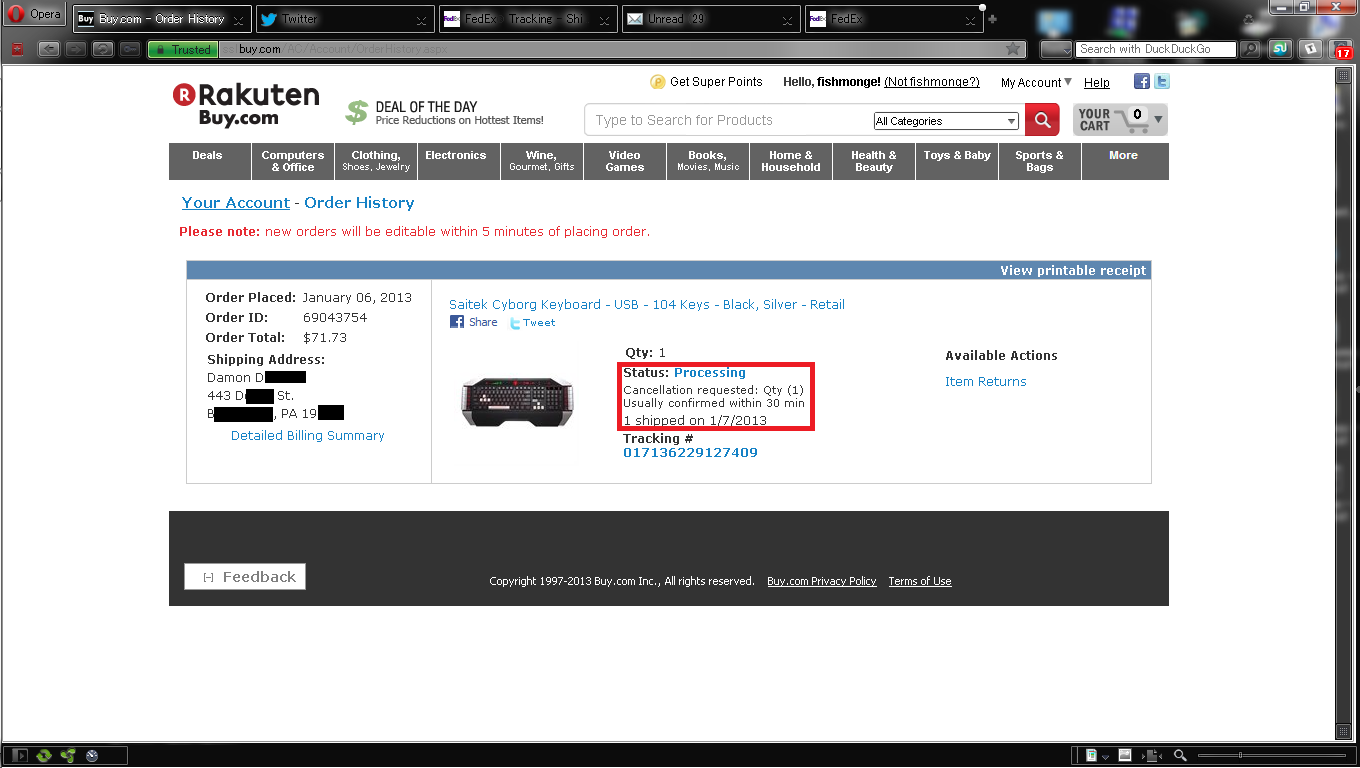 That is an actual screenshot of what it showed me. Your order shipped! But we still have the cancellation request in! :D :D :D. That evening I got a lovely E-mail.
Dear Buy.com Customer,

As you requested, we attempted to cancel your order for the item listed below from order #69

XXXXXX

.
However, this item has already entered the shipping process and could not be cancelled.

We apologize for any inconvenience and offer you three options when your order arrives:
- You may keep the product.
- You may refuse shipment for a full refund, in which case the carrier will return the product to us at our cost.
- If you are unable to refuse the package, you may return the product for a refund. In this case you might not be automatically credited for your shipping costs depending on the condition of the package or when you requested cancellation, etc.

Simply request a Return Merchandise Authorization Number (RMA#) online at https://secure.buy.com/corp/support/login.asp

For more information on our returns procedures: https://secure.buy.com/corp/support/returns

We apologize once again for any inconvenience.

Order #69

XXXXXX



sku - 206672003 : description - Saitek Cyborg Keyboard - USB - 104 Keys - Black, Silver - Retail

If you have any questions, please
contact customer support at http://www.buy.com/support.

Sincerely,
Customer Support Team

Please do not reply to this message. It was sent from a notification-only address that cannot accept incoming email. Instead, please contact us via our webform at www.buy.com/support

We apologize once again for any inconvenience. Is the biggest lie ever told. I filed a complaint with Paypal, and called FedEx to refuse the package. This morning I woke up to the best E-mail ever.
Dear Buy.com Customer,

We apologize for the difficulty you have experienced with your recent Buy.com order#69

XXXXXX



We understand that you have reported not receiving your order although tracking indicates it has been delivered. After further review, we have decided to make a one-time exception in this case and approve a refund in the amount of $71.73. Please allow a day or two for your payment institution to process this refund.

Please note: Although we do investigate each case individually, it is possible that we may not be able to approve a similar concession should the same type of issue arise on future orders. For your protection, we suggest having orders shipped to an address you will be at during normal business hours whenever possible.

In the event that you do end up locating the original shipment, please notify us immediately so that we can arrange to have the item picked up at our expense.

Thank you for your patience while this matter was being looked into. If you feel this refund does not resolve your concern, or you need to contact us regarding a different matter, please feel free to do so using our online web form:

www.buy.com/support

We thank you for your understanding and customer loyalty.

Sincerely,

Buy.com Customer Support
www.Buy.com

Please do not reply to this message. It was sent from a notification-only address that cannot accept incoming email. Instead, please contact us via our webform at www.buy.com/support

I firmly believe this happened because I request snail mail in case I needed to get "another party" involved. They act like they're doing me a favor fulfilling basic customer service. They're also telling me a package was delivered which was not because I told FedEx not not deliver it. Of course it didn't get back to them yet, as per my FedEx tracking but it was also not delivered.
In closing, I want three things to sick with everyone.
Never, under any circumstances order from buy.com. If at gunpoint, take the bullet.
FedEx had policies that make sense and some of the best customer service I've ever had. I've called them before, mostly with questions as they operate a little differently from UPS and USPS but they were always nice and helpful. In the physical store, which I've been to twice [This is the FedEx Office Print & Ship Center in King Of Prussia, PA], the staff were helpful and actually seemed nice.
PayPal has gotten a bad rap for customer service and between this and the one other time I called outpreformed buy.com with more stars than can fit on a chart.
Buy.com's customer service: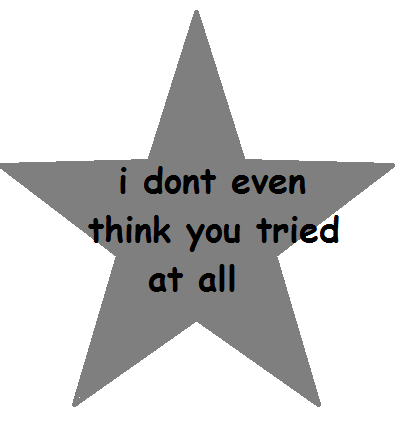 January 10th Update: Called when I still didn't have my refund. Was hung up on.
Subject

Buy.com Order No. 69

XXXXXX




Discussion Thread

Response Via Email (J

XXX

)
01/10/2013 05:44 AM

Hello Damon,
Thank you for contacting Buy.com regarding your order number 69

XXXXXX

.

I apologize for the inconvenience you have experienced. Buy.com encountered an error while attempting to refund your PayPal account. I am working on resolving this issue with our PayPal manager and your PayPal account should be refunded within 3-5 business day.

I apologize for any confusion this may have caused and appreciate your patience while I work resolve this matter. Please feel free to contact Buy.com if you have any other questions or concerns as your satisfaction is very important to us. Sincerely,

J

XXX


Rakuten Buy.com Customer Support


Question Reference #130110-000069

Date Created:
01/10/2013 05:44 AM

Last Updated:
01/10/2013 05:44 AM

Status:
Closed

Order Number:
69043754



[---001:000742:07022---]

Another update, got a refund through paypal. Same day as the "Ordeal".
Hello Damon D'Amore,

We have concluded our investigation into your claim.


Seller's Name: Buy.com
Seller's Email: paypalacctng@buy.com
Seller's Transaction ID: 36B

XXXXXXXXXXXXXX



Transaction Date: Jan 6, 2013
Transaction Amount: -$71.73 USD
Invoice ID: 69

XXXXXX


Your Transaction ID: 01H

XXXXXXXXXXXXXX


Case Number: PP-002-

XXX

-

XXX

-

XXX



Buyer's Transaction ID: 01H

XXXXXXXXXXXXXX





You have received a refund via PayPal in the amount of $71.73 USD.

Update Again! January 11th. Recieved an E-mail about my BBB complaint. This is, word for word their response to me. The formatting is slightly altered and may not appear exactly as it does on the BBB website in your browser however it is presented only in plaintext and formatting errors are in terms of line breaks and paragraphing.
Company's Initial Response - Posted 01/10/2013
On behalf of Buy.com, I sincerely apologize for all the inconvenience and confusion that this transaction has created. We take customer service very seriously here, and it is each agent's responsibility to give first class service on every single contact that we get. Clearly, that did not happen, and I intend to do some research on this order and talk to everyone who touched these inquiries. According to our records, your Buy.com order number 69043754 was issued a full refund of $71.73 on 1/7/2013. Usually all PayPal credits are posted using our automated system. In this case, your refund failed our automated system because there is an open dispute with PayPal. Once a dispute has been opened, all refund requests must be handled manually through PayPal's Resolution Center. This requires us to respond via the PayPal Resolution Center with our resolution and await PayPal's action. All disputed funds are held by PayPal until the issue is resolved up to 20 days unless the customer closes the case or PayPal reaches a decision. I already forwarded this case on to our PayPal Account Manager for review. If you wish to avoid the possible wait time, you may close the dispute and contact us to let us know once it has been closed so we can manually expedite your refund. Sincerely, Rakuten Buy.com Customer Support
Initial Response Summary
We apologize again for the bad experience and thank you for your time and insight. Hearing from our customers is the best way to gauge our service and bring about improvement.,

Since I have my refund now I am not pressing the issue farther, however... Goddamn man! Puncuation!