A look at Sims 1 Expansions.
There's not a lot of info really talking about sims 1 EPs anymore. Sure, you could go on a fourm and ask, but it kinda seems strange to go onto a site for a game you really haven't played in a long time. So, this is my own person thoughts on each EP, along with why people usually reccomend it.
Livin' Large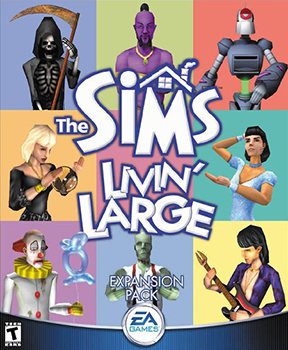 So, Livin' Large. This EP offers a lot of neat little bobs and bits, and being the first EP it was amazing when it came out... it added new neihberhoods, so no more swapping UserData folders by hand! Of course, this feature was a major game engine update and is in at least every EP from Hot Date and up. If you're going to skip and EP, skip this one. Even if some of the most loved Maxis Content is in it. There's not a whole lot to say about this EP, but I love tacky furniture and that's in this EP.
What you'll get:
Tacky Furniture
Cool objects (Voodoo Doll, Genie Lamp)
What you'll miss:
Leapoard Print Furniture
Potion Concotion Station
House Party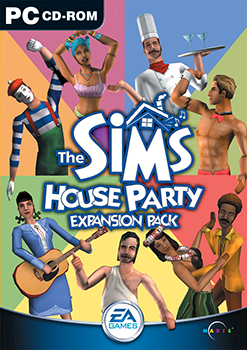 House Party lets you throw bitchin' parties. Or get robbed trying. #!@&ing mime. This EP ads a lot of group socials, and it needed for Hot Date to be realized fully-- if you want clubs downtown, you need the House Party objects. I did run without House Party for a long time, as my disc dissapeared-- this was before I got Complete Collection. You don't miss it, until you're downtown. Downtown really wants the clubs, although Maxis does have the lots use a different template so there isn't blank space where the dancefloor should be, but it's not exactly intereting either.
We could also talk about how mid-90's the title is, but that's for another day.
What you'll get:
Everything you need to simulate a mid-90's house party
More bars
Some neat industrial items
What you'll miss:
The full potential of Hot Date's Downtown
A lot of animations that hacked objects use.
The charades table
The 'Techno' themed bar... shit's awesome.
Hot Date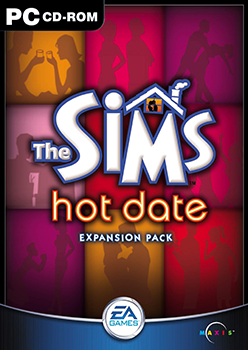 Hot Date is the cutoff for the "new" game engine (even if it will be updated again majorly in Unleashed and then Minorly in Super Star and then SS' update was fixed in Makin' Magic). You need this EP (or higher) to not have your game crash with some hacked objects. It adds more one-on-one socials-- compared to House Party's group socials-- and this is the earliest EP that adds any sort of public area. Oh, and you can give sims gifts with it.
What you'll get:
The 'Downtown' area to shop, dine out and possibly make a nusacence of yourself.
Bars and Clubs to visit... and have not-specifically alchoholic drinks at.
One of the best EPs for comuinity stuff, actually.
What you'll miss:
The ability to take a sim on a date
The easiest to get to public area
The old-city like atmosphere of the downtown area.
Vacation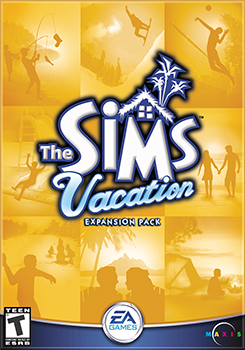 Vacation, or On Holliday in the UK edition, lets your sims go on vacation to... Vacation Island. There's a lot of cool stuff in this EP, and who doesn't want to vist kinda tacky resorts? It also gives you the option to go camping, and a lot of the objects (like the fishing pier) have been ported over for use in other areas. It's a big collection of 'little things', and if you install Unleashed before you populate the hood, the template lots will actually be almost pets-friendly. Almost.
What you'll get:
Place to go on vacation... viably stay overnight on an away lot!!!!
Sporty objects, such as a volleyball net.
Winterwear, another outfit type.
What you'll miss:
Winterwear, the new outfit type.
Animations for hacked objects.
Unleashed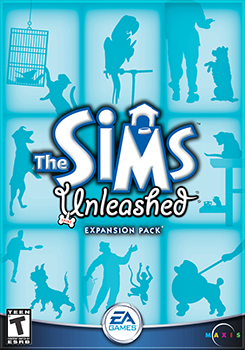 Unleashed is both a pun, and a departure from the two-word titles. You get pets, which some people really miss. Although, you can do more with your pets than your kids-- yes, really. Actually, why is there not a hacked object to teach little Jimmy to catch mice yet? Aside from pets, you get more build space. You want this. This area can be freely zoned as residental or comuinity. If I'm remembering correctly, this adds 31 new lots that can be houses! (Although, you arguably want at least one to be an away lot but you can put all that stuff elsewhere if you want.
What you'll get:
Pets
Gardening
A fuckton more places you can put houses holy christ.
What you'll miss:
All the real estate.
No, seriously you want this EP for the added lots.
Superstar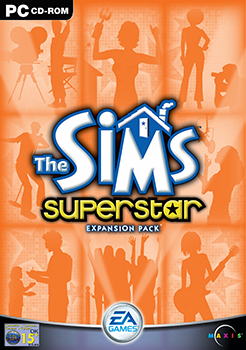 Superstar is affectionately called Stupidstar by a lot of fans, but it's one of my favorites because I am gaudy. Most fans pick it up for the added outfit type and more away lots, still. I love it because of how tounge-in-cheek the whole 'fame' career is. Maxis puts the "weird" in Hollyweird with this one. Instead of, say, Sims 3 Showtime... this one goes through the rise and fall of a star. I think it's just as much fun to fail as it is to succeed.
What you'll get:
Tacky hollywood type away lots
Semi-legal oxygen bars-- Hey! This was the late 90's!
Spa Stuff
A pretty awesome fame career path, complete with a creepy adult obsessive ban with a pornstache.
What you'll miss:
The new outfit type
Some of the best satire between all the games.
Makin' Magic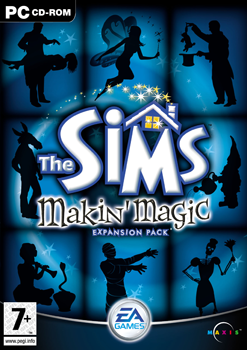 Back to good 'ole two word EPs with Makin' Magic. If you're thinking they wanted to cash in on Harry Potter, that's only partly true. The EP adds one fo the funniest magic systems, refrencing 'free-range hand fed rubber chickens' and includes a sort of impled lore for the magic, although you don't get a lot of information before the hostile MagiCo coorprate takeover, but that does explain why everything is standardized. Which is the actual in-game logic.
With the final EP, Maxis churned out a lot of humor and just general fun. Even if you don't use the magic stuff, the carnival areas are a great place to add some of the Vacation games and it is actually the easiest to visit area, provided you've got a hole in the ground.
What you'll get:
Magic
Lots of great parody-horror stuff.
Ability to make wine nectars.
What you'll miss:
The latest version of the game engine, for hacked object compatibility.
Some of the best humor between all the games.